Salt Creek Golf Course with its 18 hole championship course is 3 1/2 miles south of Salt Creek Farm House. It has an excellent Overlook Restaurant, which also serves a Sunday brunch. Or visit the
19th Hole Sports Bar where five TVs are tuned to sports, bands play on the weekend and there's good casual food.

Old Covered Bridge in nearby Bean Blossom
which is also the home of the annual
Bill Monroe Blue Grass Festival in September
and many other music festivals.
Enjoy live Entertainment at the Muddy Boots Cafe which has the best mac and cheese anywhere and is a hangout for local artists. The Pine Room Tavern
also has great food

and there are dozens of places to eat and have a good time.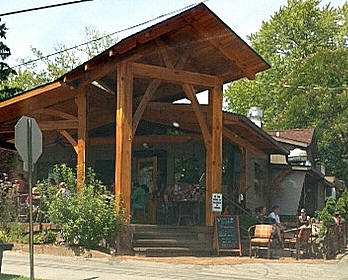 Big Woods Brewery on Molly Lane in Nashville makes their own micro-brewed beers and offers excellent food and music! It's also worth checking out for the decor and massive wood beam construction.
Wineries in Nashville include the Brown County Winery on State road 46 and Chateau Thomas wine tasting room in downtown Nashville, which also has live music.
There are antique shops everywhere, such as the Brown County Antique Mall and several large flea markets about five miles from the farmhouse on state road 46.
Brown County State Park, the most visited park in Indiana, its north entrance is 4 miles from Salt Creek Farm House. You can eat at the Abe Martin Lodge, hike, bike, or go horse back riding.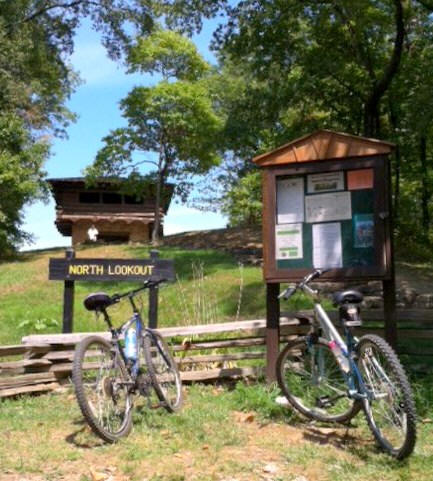 Brown County State Park which is ten minutes away (4 miles) has mountain bike trails ranging from easy beginner to hair raising nationally rated expert trails!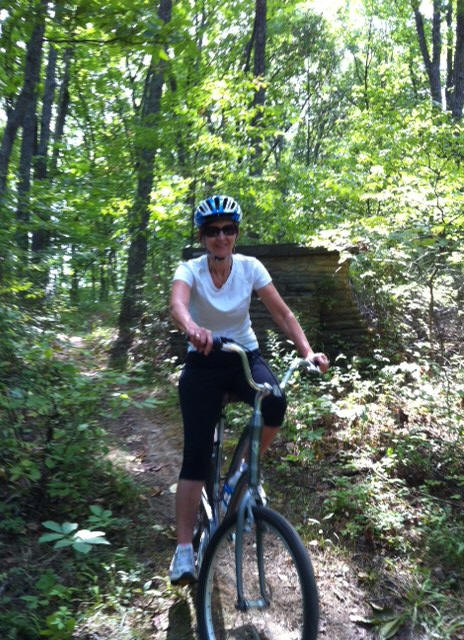 This trail is pretty easy... just don't make a wrong turn and end up on an expert trail unless you're really in shape and have the right bike!
Salt Creek Road where our farmhouse is located also attracts bicyclists because of its twists, turns and hills but it's not for rookies!
There is also horse back riding in Nashville at Schooner Valley Stables.
There are numerous artist's and craftsmen's studios in the area. Cox Creek Mill, is a mile or so away off Annie Smith Road featuring the Metal Artwork of Brad Cox, and Faerie Hollow Pottery & Jewelry is a mile south of Salt Creek Farmhouse at 1650 Salt Creek Road.
The Gatesville Country Store 3 miles north of us at 4525 Salt Creek Road serves good meals, breakfast buffet, carry out meals, supplies and the TV is usually tuned to sports.

ATV riding, mountain biking, aerial tours and paint balling is available at Valley Branch Retreat, nine miles (15 minutes) away.
There are almost 300 shops, galleries, theaters & restaurants in the Nasville, IN area, Salt Creek Farm House is centrally located to most of them and less than fifteen minutes from downtown Nashville.
Historic Sites such as the artist T.C. Steele home, studio & gardens.

Pan for gold (really!) in Gatesville, 3 miles north of the Salt Creek Farm House. Twice yearly the Southern Indiana Chapter of GPAA, meets and camps there behind the "Gatesville Country Store."

Yellowwood State Forest

Annual Wine Tasting Festival in nearby Story, Indiana, usually held the last week of April.

Numerous Antique shops.
Flea markets every weekend on State Road 46.
Whip-poor-will Woods
Located about five miles north of Salt Creek Farm House, Whip-poor-will Woods' is 858 Acres of rolling hills, deep ravines, narrow ridges and in the spring you're likely to hear the "charming" song of the Whip-poor-will.
The Whip-poor-will Woods' is owned and managed by the Division of Nature Preserves. It consists of
moderate to rugged terrain moves with no formally established trails on the preserve at this time, so be careful as you hike.
How to find it....
From the Salt Creek Farm House, go 3.5 miles north on Salt Creek Road to Gatesville, turn right at the intersection and make an immediate left onto Sweetwater Trail. After approximately 3/4 of a mile and turn right on Persimmon Ridge Road (a dead end) and at the top of the hill where the road curves, look for the single-car pulloff on the right side of the road. Please do not trespass on any adjoining properties!
Whip-poor-will Woods is characterized by; sumac, sassafras, red maple, broomdsedge, black oak and ash, as well as by wildflowers, such as; showy orchids, trilliums, Mayapple, twinleaf and white and purple violets. The woods are also home to the rare whorled pogonia, a rare and threatened orchid that only blooms every 10-20 years. The southern portion of the woods is made of a mature climax forest that includes chestnut, hickories, beech, sugar maple, tulip, white ash and red, black and white oak.
whorled pogonia,
Animals that inhabit the woods include; coyotes, gray and red foxes, eastern box turtles, deer and Wild Turkey. Smaller mammals, snakes, skinks, and fence lizards have also been spotted. The large, un-broken forest area on the eastern boundary is critical habitat to Scarlet Tanagers, Rose-breasted Grosbeaks, Ovenbirds, various species of warblers and many other speices of birds, reptiles and mammals that need the woodland in order to survive.
Source: www.nature.org
Email us at: saltcreekfarm@aol.com or globltrade@aol.com
Phone: 317-442-0137
Fax: 317-852-0924